27 Jun

Leo Gerard: Donald 'You're Fired!' Trump, Kills Jobs

After mouthing off in ways that had the effect of repeatedly shooting himself in the foot, Donald Trump tried to recover last week by puffing himself up as the jobs candidate.

"When I see the crumbling roads and bridges, or the dilapidated airports, or the factories moving overseas to Mexico or to other countries, I know these problems can all be fixed," Trump told a New York audience, "Only by me."

That would suggest Trump knows how to create infrastructure and manufacturing jobs. American jobs. Good-paying jobs. It suggests he appreciates the value of workers' contributions to an enterprise. And that he understands the daily struggles of non-billionaires. This proposition is utterly ridiculous. The name Donald Trump is synonymous with the words "You're fired!" He made money by brutally, publicly taking people's jobs from them. And he clearly enjoyed it.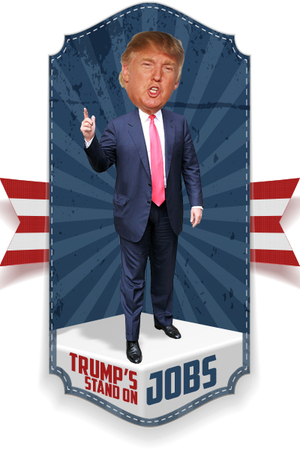 When Trump got what he wanted out of Lewandowski, he threw the guy out. Trump showed no appreciation for the guy's contribution to the enterprise. Trump exhibited no sense of loyalty. That is exactly the kind of corporate callousness and betrayal that has embittered American workers for the past two decades.
Workers give their all, go above and beyond to help make corporations like Nabisco and Carrier highly profitable. Then greedy corporations turn on those dedicated workers, close U.S. factories and move production to places like China and Mexico. American workers are left unemployed and billionaire owners like Trump get a few extra bucks.
That's more money for Trump, true. But it's not creating American jobs.
Trump doesn't care about the slave-wage workers producing his products overseas or the minimum-wage workers unable to scrape by in the United States. When asked if the federal minimum wage of $7.25 should be raised because nobody can live on that little money, Trump said no.
Trump was born with a silver gaffe in his mouth, raised in luxury, set up in business by his father and bailed out by his daddy when he stumbled. He has no idea what living on the minimum wage of $290 a week means. He once had to live on a strict budget of $112,500 a week. That occurred as he neared bankruptcy 26 years ago.
The same day Trump fired Lewandowski, Moody's Analytics, a subsidiary of the credit rating and research agency Moody's Corp., released a report authored by four economists predicting an economic and jobs disaster if Trump is elected president.
If Trump is elected and achieves all of his proposed policies, the economists projected that he would plunge the country into an economic downturn that would be longer and deeper than the 2008 Great Recession and destroy more than 3.5 million jobs.
That is the opposite of a jobs president.
On Friday, when the world learned that Britons had voted to exit the European Union, Donald Trump hailed the result as a"fantastic thing."
Bad stock market news is not good for jobs. And when the pound loses value, British workers get hurt.
But it's good for Donald Trump. And that's all he had in mind. He told reporters Friday: "When the pound goes down, more people are coming to Turnberry, frankly."  He was referring to foreign visitors taking advantage of the currency devaluation to visit his golf course in Scotland.
Even if Brexit drives Europe back into recession and millions once again lose their jobs and their homes, the rich will still play golf at Turnberry. And that's more money for billionaire Trump. That's foremost in Trump's mind.
Worse than Brexit for the global economy would be a President Trump. That's according to the Economist Intelligence Unit, (EIU) one of the leading firms analyzing threats to the global economy.EIU ranked a Trump presidency riskier to the global economy than Britain leaving the European Union – and in just one day, that event left global markets utterly shaken.
Donald Trump definitely has expertise. It is self-promotion. It is financial self-interest. It is firing people. It certainly is not promoting American workers' interests, raising their wages or building an economy that would generate family-supporting jobs.