09 May

Leo Gerard: Trump-Don't-Care

Republicans in the House last week passed the Trump-Don't-Care bill.

The legislation they called the American Health Care Act is not about improving health care at all. It would, in fact, strip coverage from 24 million Americans.

The name of the bill shouldn't even include the word "care," since it threatens to deny health insurance to millions with pre-existing conditions and those suffering expensive ailments.

No, there's no caring in this legislation. It's all about politics. Republicans promised for seven years to repeal the Affordable Care Act. And now that they control the House, Senate, White House and Supreme Court, they're intent on doing just that, no matter who they hurt, no matter how many Americans they injure. Thus the "Don't Care" designation for Trump's legislation.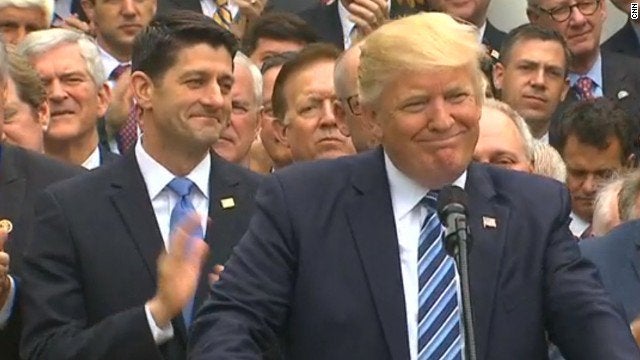 Just how much don't they care? Let's count some ways.
Under Trump-Don't-Care, older people get battered. Insurers can charge them five times the rate for younger people, instead of three times under the Affordable Care Act, also known as ObamaCare because former President Obama actually cared enough to make sure his legislation would increase the number of Americans covered by 20 million and provide affordable insurance for people with pre-existing conditions.
Here's what Trump-Don't-Care will mean in dollars and cents to older people according to the non-partisan Congressional Budget Office: A 64-year-old with an annual income of $26,500 pays $1,700 a year in Obamacare premiums now. And that's a lot on a $26,500 income. But under Trump-Don't-Care, the cost will skyrocket to $14,600, more than half of the old person's income.
The foundation lists about 30 of these diseases in a report on its website. Those are only the most common, however. U.S. Sen. Sherrod Brown, D-Ohio, listed 90 in alphabetical order in a series of tweets on Thursday, including: acid reflux, acne, ADD, addiction, Alzheimer's/dementia, anemia, aneurysm, angioplasty, anorexia, anxiety, arrhythmia, arthritis, atrial fibrillation, autism, bariatric surgery, basal cell carcinoma, cerebral palsy, cerebral thrombosis, cervical cancer, colon cancer, colon polyps, congestive heart failure, COPD, Crohn's disease, migraines, seizures, sickle cell disease, skin cancer, sleep apnea, stent, stroke, thyroid issues, tooth disease, tuberculosis and ulcers.
Trump-Don't-Care would mean that if a person with one of these illnesses is without health insurance for a time because of job loss or some other problem, when they try to get covered again, the insurer may charge them unaffordable rates. The GOP put an extra $8 billion in the bill at the last minute to fund high-risk pools for these people, but that sum is grossly inadequate, by about $200 billion.
Also under Trump-Don't-Care, states would be able to waive the requirement that insurers cover what the Affordable Care Act defined as 10 essential services. These include hospitalization, maternity care, mental health and opioid treatment, chronic disease management, prescription drugs, and ambulance transport. That might make insurance cheaper, but it would be insurance worth less to the so-called beneficiary as well.
If even one state cuts essential services, millions could be affected nationwide as large employers would be able to exploit the changes to degrade the coverage it provides workers in other states. That means many workers could once again be faced with annual and lifetime limits on coverage and the loss of caps on the amount that must be paid out of pocket annually.
Also, Trump-Don't-Care whether workers have insurance. The Affordable Care Act requires employers with more than 50 workers to provide it. But the Republicans eliminated that mandate.
On the other hand, the GOP retained one aspect of the Affordable Care Act that workers have protested from the outset, the tax on comprehensive, but expensive, plans. That affects workers whose employers do the right thing and provide good health insurance. It pressures those companies to scale back coverage to avoid the tax.
That means the GOP would transfer hundreds of billions from poor, no-longer-insured people to those who don't need the extra cash – the wealthy. The Kardashian crew doesn't need any more diamond rings. Kanye West doesn't need any more cars. And Donald Trump doesn't need any more gilt. But the single mother working at McDonald's and the widower supporting two kids on day laborer's wages sure as hell need that Medicaid expansion.
As soon as they passed the Trump-Don't-Care bill in the House last week, GOP lawmakers ran to the Rose Garden to party – then took off for an 11-day vacation. They celebrated slashing insurance benefits for 24 million. They drank champagne to destroying any sense of security for people suffering pre-existing conditions. And since the average net worth of House Republicans is $7.6 million, they rejoiced at having voted to give themselves a big fat tax break.
Democrats mocked them for reveling over passage of a bill that would hurt so many Americans. Just after the vote, the Democrats sang "Na na na na, hey, hey, hey, good bye," from the Steam song, suggesting that Republicans had shot themselves in the foot by passing Trump-Don't-Care because constituents would make them pay in the 2018 elections.
But what the GOP really did was shoot Americans in the foot. Then slap each other on the back in the Rose Garden. They just don't care.