07 Nov

Hillary Had My Back

The year 2001, when I became president of the United Steelworkers union and Hillary Clinton took office as a U.S. Senator for New York, was a desperate, terrible time for steelworkers and the steel industry in this country.

I turned to her, among many others, for help. Something had to be done. Within a half dozen years, 50,000 steelworkers would lose their jobs and 30 steel companies would go bankrupt. The primary culprit was unfair trade, as it is now.

As I fought to save jobs, I found that some lawmakers were true to their word, and Sen. Hillary Clinton was one of them. When she promised me she would co-sign a bill or testify in front of the International Trade Commission, she did it. She never let workers down. American steel and aluminum producers are in crisis again. I want a President I know I can trust based on past experience to help these workers. That is Hillary Clinton.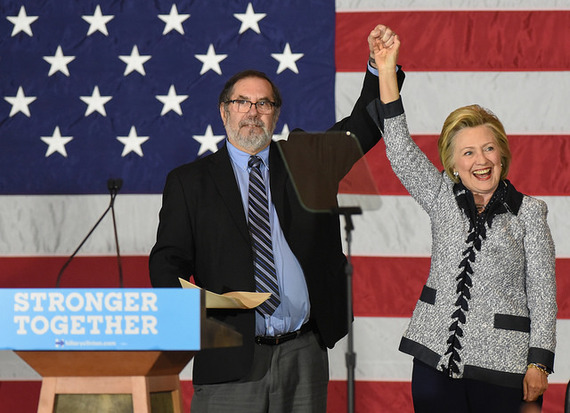 Leo Gerard and Hillary Clinton at rally in Pittsburgh
Let me take you back to 1997. That's when the steel disaster began with a financial crisis in Thailand. It spread across Asia and later to Russia and even Brazil. These countries maintained steel production and employment with government subsidies then dumped the excess metal at below-market costs in the United States. This created a massive global oversupply of steel, further sinking the price.
The result was a near record level of steel imports into the United States in 1997, followed by a one-third increase over that in 1998. And the numbers worsened year after year.
American steel companies collapsed. Tens of thousands of U.S. steelworkers lost their jobs. More than 100,000 retired steelworkers lost health care benefits that had been funded by steel companies that liquidated. Many more steelworkers lost pension benefits. Companies that supplied the steel industry went bankrupt and their workers lost jobs. Communities dependent on steel were devastated.
The steel industry and the USW filed literally dozens of individual trade cases asking for relief from imports of specific kinds of steel products and won them all. They also sought special, broader relief called Section 201 from then-President George W. Bush. And that's where Hillary Clinton was particularly helpful.
I asked the freshman senator to testify for us. And she did it twice, even though she was dealing with the horrible consequences of the 9/11 attack in her home state. She got up to speed on the complicated trade issues, and by the time she spoke for us, she understood clearly how unfair trade affected steelworkers in New York and workers across the country. Here is some of her testimony to the International Trade Commission (ITC) in 2003 asking for an extension of the Section 201 intervention:
"As our country faces difficult economic and international challenges, a vital, healthy domestic steel industry is important not only for the economic health of our nation, but for our national security as well. . ."
"Yet New York, which was once a major steel producer, has seen mill after mill close as a result of dumped and subsidized imports. . ."
"The President's Section 201 decision was based on the idea that by limiting the ability of illegally traded imports to pour freely into the U.S. market, temporary import relief would make it possible for the domestic industry to attract the investment it desperately needed to fund consolidation and modernization. And, indeed, this is exactly what happened. . ."
"The steel industry's workers have also invested heavily in the industry. As you can see, many steelworkers are attending today's hearing, a testament to their commitment to the future of the steel industry. In fact, in terms of the sacrifices they have made, their investment dwarfs that of Wall Street.  .  . America's steelworkers have agreed to dramatic changes in work rules and compensation, all to make the American steel industry more competitive. . ."
"With worldwide steelmaking overcapacity expected to continue for the near future, it is critically important that the Section 201 measures be allowed to run the full three years."
Frankly, I couldn't have asked for better testimony. And I really appreciated that she acknowledged that workers had given up so much to make mills profitable. She also noted that untold numbers of workers and retirees had lost health and pension benefits. Workers, she told the ITC, participated in steel's recovery.
As a result, American steel and aluminum jobs are being lost again. Right now, 13,500 steelworkers are laid off. Thousands of aluminum workers have been furloughed in the past three years as record numbers of smelters have closed. Twenty-three smelters operated in the United States in 2000. That number was down to 10 in 2013. Now, three years later, only five remain.
Look, I know from experience that steelworkers can't solve this problem by ourselves. So we partner with our employers on trade cases. And we are working with U.S. Steel on its effort to have China barred from exporting steel to the United States altogether because of its egregious violations of international law, including hacking into the corporation's computers and stealing trade secrets.
We do those things because we believe we are stronger together. We believe in Hillary Clinton's slogan: Stronger Together. It sounds like a union slogan to us. We believe that when we all stand together, when we all have each other's backs, we can do anything. We would like to have Hillary Clinton on our team.
***
Photo by Steve Dietz